French stories for children:
Free French listening & oral practice in engaging visual contexts with subtitles.
The stories are short, 3 minutes approximately, recorded at a manageable pace for students to listen to & join in with:  Excellent for accessible, regular independent French practice.
Ideas for use in class:
a) Watch the video
b) Highlight/point out phrases of particular interest/use
c) Talk about the story in English
d) Encourage students to engage with the characters, their feelings and experiences.
e) Relate those feelings and experiences to children's own lives.
f) Return to & discuss the phrases highlighted at the beginning.
g) Ask students to write and illustrate the story
h) Encourage students to return to the video for more practice …
i)  And go on to write and produce stories of their own!

Next to each story is a link to the embedded video, story in print and vocabulary, plus grammar and comprehension questions where appropriate:
1.  Introductions!
Not a story as such, but full of 'human' emotion, and an engaging way of introducing the French vocabulary for meeting and greeting via some very interesting story-like characters!
Introductions in French: Meeting & Greeting!

2.  A Story about Hamsters in French
My hamster is ill!
Simple story using verbs in the 3rd person:   Questions and answers about two hamsters who share a cage and enjoy doing different things.  One of them becomes ill and has to take medicine:
Qu'est-ce que c'est?  C'est un hamster …


3.  A New Puppy: Simple description + LIKES & a few DISLIKES:
Meet a tiny puppy on its first day in a new home.  Follow its progress as it grows and find out what it enjoys doing:
A New Puppy


4.  French story for beginners:  Maggie is mischievous!
This is a very simple true story with good practice using a possessive adjective in French: 'Mon' – 'Mon jouet!'  You wouldn't take and hide somebody else's possessions would you?!
Maggie est coquine!


5.  My Birthday in French
Friendly Primary French birthday story for practice talking about birthdates, presents and cake in context.  Learn how to talk about days and months of the year in French, and how to say when you were born by joining in with this true story:
My Birthday Story in French



6.  ON –  Pourquoi on va à l'école?
Introduction to and practice using the impersonal French subject pronoun ON in the friendly context of what happens at school, including during a dog agility class!
Qu'est-ce qu'on fait à l'école?


7. Comparisons in French
A story to illustrate 'Plus _ que'  =  More than in French:
Two dogs, one old, one young, one can run fast, the other barely makes it to a nearby lamp post.  Both are charming and both wear red coats.  Age is discussed as well:
Plus _ que


8.  Maggie travaille!
This is a lovely nature story with focus on the value of listening, and an introduction to Adverbs in French via a special little dog who works hard to protect the birds:
Maggie & the squirrel


9.  My Family in French:
This is a lovely way to introduce vocabulary about family members in French:  Meet a litter of puppies on the day they were born, find out about their parents, grandparents, aunts and uncles, and what they get up to as they grow up:
Ma Famille – A True Story!

10.  Maggie and Billy at the River:
KS2 French Story Practice
Short simple sentences in the present tense describe a friendly walk by the river with likes and dislikes about swimming ..!
Maggie & Billy at the river – Questions & Answers


11.  A Story about SUPPER!
It's suppertime.  All eyes on the 'cook'.   Please can we have some more.  And what about pudding?  'Nous voulons un peu plus ..!
We want some more:
C'est l'heure de manger. Supper!


12.  KS2/3 French Story: Chez le coiffeur!
Friendly story about going for a hair cut.   'Somebody' is reluctant and tries to escape.   And what a relief when it is all over.  Click here to see the words in print and learn about all the French Adverbs in the Story:
Chez le coiffeur: At the hairdresser's


13.  Je m'appelle Billy!
Friendly practice on how to introduce and describe yourself in French via this very friendly and engaging character:
Maggie's son, Billy, introduces himself, talks about where he lives, his character & likes/dislikes:
Je m'appelle Billy


14.  French Story using Prepositions!
Stick insects are very easy pets, but they do need feeding and cleaning out occasionally.  This story describes the job with focus on all the prepositions used in the process.  Grammar in context in French AND English:
Billy & the stick insects (Preposition Practice!)


15.  Practice using NEGATIVES in French:
This is the story of the day two dogs got a special treat because of a conversation on Twitter.  It causes many problems which provide lots of opportunity to use negatives in French:
A Bone from Twitter!



16.  A Winter 'Story' in French:
Learn about winter weather in French – Friendly winter scenes with accompanying short sentences to listen to and join in with:
Winter Weather in French!

17.  Il y a + il faut:
Learn to use il y a and il faut and enjoy this very sweet story about Maggie and Billy trying to 'steal' apricots.  This video gives a good glimpse of Maggie's character too:
Maggie, Billy et les abricots!


18.  Adjectives to Describe Character in French!
Focus is again on the natural world which provides lots of opportunity to use a variety of adjectives to describe some very different characters!
Le MacDo des oiseaux


19.  CES, SES, C'EST:  French Homophones in context!
This is a gorgeous and true French grammar story about a little chick and its worried parents:
  Ces,ses, c'est: French homophones


20.  French Story in the 3rd Person:  Perfect + Present Tenses:
Very short description of Maggie's likes and dislikes with an introduction in the Perfect Tense before switching back to the Present tense:
Maggie has grown!

21.  FRENCH DIRECT OBJECT PRONOUNS:
Friendly short story introducing Direct Object Pronouns: le, la, l' and les to aid with understanding and practice in context:
French Direct Object Pronouns
22.  REFLEXIVE VERBS!
A wonderful French grammar story about the day the puppies were born to illustrate many reflexive verbs in context:
One of them was Billy of course!!  See him moving about with his siblings!
Reflexive Verb Practice

23.  The IMPERFECT Tense versus the PERFECT Tense in French:
This charming story about a puppy growing up provides a clear way of contrasting the use the imperfect & perfect tenses and shows students when and how to use both tenses:
Imperfect tense – A New Puppy
French words + follow-up exercise: Worksheet

24.  KS3/4 Cross-curriculum Story about a Forest Fire:
In the heat of summer fires can easily start.  This quite detailed story in the present tense describes how a fire starts in the mountains and how it is finally put out.
The resource includes two worksheets:
Fire in the mountains!!
French Worksheet with questions & story in French:
Worksheet
Translation practice into English:  Worksheet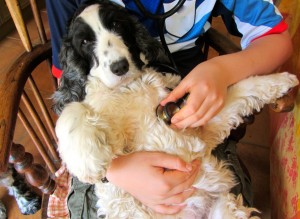 Index to all resources:
French for Children
Spanish for Children