French and Spanish for Children
For Beginners and Intermediates:  Helpful at any age.
French and Spanish video clips, stories, grammar, topics and activities.
Free for any child or student to use for independent practice and revision, and for teachers to use for homework (flipped learning) and for discussion and ideas in class.
Friendly, visual language resources that cover many grammar points, topics, and vocabulary such as Food and Drink, Daily Routine, Modal Verbs, the Imperfect Tense, Prepositions, The Weather, Sport and Leisure  etc …
Index:
French for Children
Spanish for Children

The Stories, in French and Spanish, often include two dogs, mother and son:   Maggie is Billy's mother.  Resources featuring her single litter of puppies are used to illustrate and explain reflexive verbs and vocabulary for family members.  Beginners can start their journey with a simple introduction to Maggie as a tiny puppy,  encounter 'possession' by watching her steal and bury Billy's toys, and get to know Billy via his 'oral presentation'.
The hedgehog story in Spanish below, and the French video clip  featuring 'Il y a + Il faut',  are examples of how A Green Mouse stories are used for grammar practice.
About  + Testimonials:  About/Contact
A Green Mouse shared free video resources on TESConnect from 2012 to December 2015 as a Content Partner.  It is committed to sharing for free online, and very grateful for the mention it received in a February 2013 issue of the Times Educational Supplement magazine: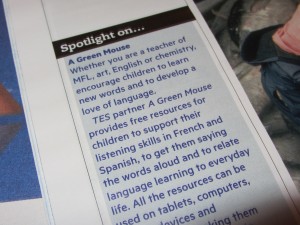 A Green Mouse Youtube Channel: A Green Mouse
Examples of A Green Mouse resources:
FRENCH:
Grammar practice in a story using:  il y a + il faut


French Prepositions:
Au, à la, à l', Aux  +  À and En for transport
SPANISH:
Short Story for practice using SER and ESTAR:
Explanation + grammar + exercise:  Hedgehogs in Spanish

Holidays in Spanish –
My Holiday in Spain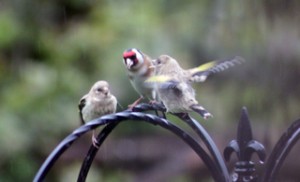 Index to all resources:
French for Children
Spanish for Children
.