French Activities for Children
Free French cultural activities via craft ideas, recipes, stories and songs.
Carnival in France:
Find out about Pancake Day in France (Mardi Gras), Monsieur Carnaval, and how children parade and celebrate in France:
Carnival at School in France
+ Online Quiz
– – – –
Build a Model of the Eiffel Tower
Build a model of the Eiffel Tower using a box of Camembert!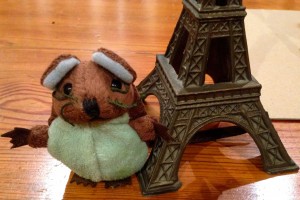 Click here for INSTRUCTIONS on how to build the tower. Watch and listen to the video clip:  Build the Eiffel Tower!
– – – –
Pâte à sel
Recipe for PÂTE À SEL
All French children know what pâte à sel is, just as British children know all about playdough, but creations made out of pâte à sel can last forever.
Recipe:
1 cup salt
1 cup warm water
2 cups flour
(make sure the same cup-size is used for all ingredients)
Basic Kit:
knife
rolling pin
tooth picks (for decorating, making shapes, and for sticking shapes to each other)
tin foil – for filling out the inside of larger models to make sure they cook thoroughly
paint brush – use with tiny amounts of water to stick shapes together & for wetting the dough
acryllic paints and different-sized brushes for painting finished models
wood varnish.
Method:
Mix the salt and flour together first, then slowly add the water and work to a smooth workable paste.  If it is too sticky add a little more flour and salt which you should mix together first.
The dough will be easier to work with if the atmosphere is quite humid, and will dry out more quickly if it is a dry day.  Have a paint brush handy to brush the mixture with a little water if it starts drying out.  Also keep cling film or a plastic bag nearby to wrap the spare dough in, either while you are working with just some of the dough, or if you need a break.  (The dough can be kept for several days in an airtight bag – just brush it with a little water to get it going again)
Be as inventive as you wish in your design, choice of materials, implements, food colouring etc..  Tip:  If you want to dangle your creation, make a hole in it before you cook it. 
Cooking time:
Very slow oven (100 degrees) for several hours.  Turn the models over during cooking and make sure they are thoroughly dried out on both sides.
Give the finished models 1-2 coats of wood varnish to preserve them.  And finally, leave the varnish to dry for 24 hours.
 Pâte à sel can be as intricate and detailed as you like.  Watch the video to see how to make an Angry Bird! (In French of course!)
– – – –
Decorate Easter Eggs
Easter Egg Activity
– – – –
Tarte aux Fraises
French Strawberry Tarts are delicious and look very impressive, but they are not actually that hard to make.  If you can make shortcrust pastry (or buy it) and you have the ingredients and the right tin, YOU can make a French strawberry tart.
It really is just a pastry case filled with a French custard called 'crème pâtissière' with strawberries cut in half and placed on the top and then brushed with a glaze.
Here is the recipe:   Tarte aux Fraises

– – – –
SING French Nursery Rhymes
Seven French songs recorded at a manageable pace for English-speaking children to join in with:
French Songs
– – – –
Make a Galette des Rois
Easy French recipe for a Three Kings' Day Cake:
French Bakeries are always full of lovely pastry cakes called 'galettes des rois' on 6th January. Traditionally English Christmas puddings contain a small coin for the lucky person who finds it in their slice … In France it is the Gallette des Rois that contains the lucky charm: It is called a fève.
Printed recipe instructions are available here:  Galette des Rois
Do watch and join in with the video for clear instructions and practice listening to French:
– – – –
Make Biscuits in French!  Happy Face Biscuits!  Cutters are available at Lakeland, but this is a very basic recipe and you can make any shape you like.
Instructions:  Make Biscuits in French!
– – – –
Palets Bretons French Biscuit Recipe
La Bretagne is famous for its deliciously buttery, crumbly biscuits.  Here is an easy recipe for Palets Bretons
– – – –
French Leek Tart
Un poireau = a leek
Des poireaux = some leeks
Here is a wonderful recipe for a French Leek tart, very delicious and worth introducing to children to if you have time …
Tarte aux Poireaux – French Leek Tart
– – – –
French Stories
A Green Mouse is full of short stories: French Stories!