Free Activities in Spanish
Free Spanish Activities for Children for friendly practice using Spanish via craft ideas, recipes, video clips, stories and songs:
Spanish listening practice to join in with.
Find out about Las Fallas, the most wonderful family celebration in Valencia, Spain!
1.  Spanish/English introduction to Las Fallas:
¡Las Fallas de Valencia!
2. How to make a PIÑATA:
Basic instructions in English + KS2/3 Spanish video clip + reading and translation practice using Hay que + verbs in the infinitive to explain how to make a piñata:
How to Make a very simple Piñata

3. Learn Spanish Vowel Sounds!
Have fun with this simple Spanish RAP which has nothing in it particularly to make Spanish children laugh (and they do use it to learn their vowels), but is funny for English speakers ..!
4.  Learn to sing a famous Mexican song: CIELITO LINDO
Simple, clear recording with lyrics in Spanish to follow on the video clip, easy guitar chords, and an English translation.

For more songs go to:  A Green Mouse Spanish Songs

5.  Tongue Twisters in Spanish are called:  TRABALENGUAS
This one is great for practice rolling Spanish 'R's. Listen and join in:
El perro de san roque no tiene rabo …

6.  Latin American Recipe:  Refried Beans – ¡Frijoles refritos!
Refried beans are eaten all over Mexico and Central America.  They are delicious and good for you.  Here is more information and the words in print:  ¡Frijoles refritos!
Watch, listen, cook ..!



7.  Cooking in Spanish: Biscuits!
This is not a Spanish recipe, but the biscuits taste good and you make them in Spanish!  Make BISCUITS in Spanish! 
8. Short, accessible stories in Spanish:
Spanish Stories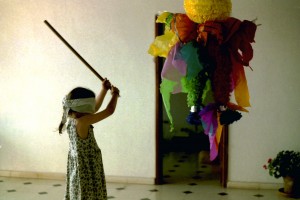 Index to all resources:
French for Children
Spanish for Children
.