Spanish Food and Drink Resources
Learn about food and drink, meals, and mealtimes in Spanish.
These video resources aim to help students to ask about and describe food in Spanish.  Each one includes a video clip, video transcript and follow-up questions:
1.  Fruit in Spanish in short phrases:
Fruit in Spanish
2. Short Story about suppertime and wanting more ..!
La Cena!
3. El Desayuno, El Almuerzo, La Merienda, La Cena
Learn how to talk about:  Meals and Mealtimes in Spanish
4.  How to Talk about Food in Spanish:
Learn and use a wide variety of adjectives in Spanish to describe food appropriate to the different meals throughout the day:
Describe Food in Spanish:  Adjectives

5.  Biscuit Recipe in Spanish:
Watch two children making biscuits, read the recipe and instructions and make your own:
Biscuits in Spanish
6.  Re-fried Bean Recipe: Delicious with Doritos!
Listen to this recipe in Spanish, find out about 'anafres', follow the visual instructions and make the recipe:
¡Frijoles Refritos!
7. Breakfast in a Hotel in Spanish!
Learn a wide variety of food vocabulary by discussing the wide selection of food available for guests in this resource:
Breakfast in a Hotel
8.  KS3 Spanish Food Listening Practice:
Eating out, going to restaurants, cooking at home.  Friendly, visual discussion about food in Spanish with questions and answers:
Spanish Food and Drink Listening Practice
9.  Comparatives and Superlatives:
Food is compared and discussed in the first section of this grammar resource.  Do you agree with the opinion about the best meal in Spain?  
Comparisons in Spanish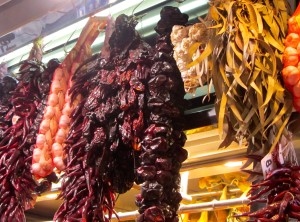 Index to all resources:
French for Children
Spanish for Children
.