Learn about Fruit in Spanish:
Learn the names of several different types of fruit in Spanish via
video clips in Spanish, or Spanish/English with short phrases for practice in context.
Watch, listen, pause, repeat and join in.
List of Fruit in Spanish + English:

un mango (m)                   a mango
un melón (m)                    a melon
un limón (m)                      a lemon
un higo (m)                         a fig
un melocotón(m)           a peach
un plátano (m)                 a banana
un banano (m)                  a banana
un albaricoque(m)         an apricot
una cereza(f)                     a cherry
una nectarina (f)             a nectarine
una mandarina (f)          a mandarin
una uva blanca (f)          a white grape
una uva roja (f)                a red grape
una manzana roja(f)     a red apple
una pera (f)                          a pear
una ciruela (f)                    a plum
una fresa (f)                        a strawberry
¡Me encantan las fresas!  I love strawberries
¡Melocotones! ¡Qué linda palabra!
Peaches!  What a lovely (Spanish) word!
More excellent fruit, often served together as a fruit platter in Central America (not included on the clip):
una sandía(f)    a watermelon
una papaya(f)   a papaya
una piña(f)         a pineapple

Fruit in Spanish Video Clip:
Version 2:  Fruit in Spanish AND English

More Practice:
SPANISH FOOD AND DRINK RESOURCES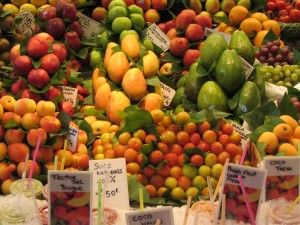 Main Spanish Page:
Spanish for Children
.