About
A Green Mouse began in 2012 with French and Spanish songs and short stories for children to help them to listen, join in and enjoy learning a second language.
Grammar is important throughout the site and content is rooted in Spanish and French culture wherever possible.
Resources introduce children to things like  carnival at school in France, and dulce de leche and alfajores in Argentina.
There are no recognisable images of children unless they gave permission as adults for their use, other than a couple of wonderful parades of children marching through the streets during Las Fallas in Valencia, Spain and during carnival time in Central America.
lnstead the characters of and relationship between two spaniels, Maggie and Billy, mother and son, have provided the male and female characters in many of the stories for children.
Comments and suggestions are helpful and very welcome.
Contact email: 1agreenmouse@gmail.com
A Green Mouse still shares a few resources on TES (The Times Educational Supplement), very grateful for this mention in a February 2013 TES magazine: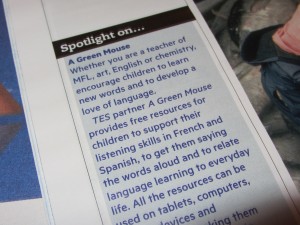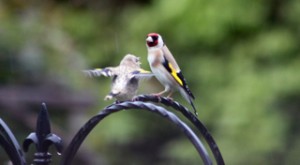 Reviews
– Email from a High School French Teacher:
"I discovered your videos recently and have really enjoyed using them …  I teach high school French and your videos provide high-interest, scaffolded "comprehensible input" using target vocab and structures.
… your videos are perfect:  high interest, scaffolded (with the English underneath), simple, and not too long.
Thank you for your work!"
– Email from a parent:
"Thanks for having this site up.  It's very helpful for my son learning French.  You have great songs and learning for anyone.
Merci beaucoup mon ami."
– Review by a primary school Spanish teacher:
"I have used many of the excellent resources with the children in my school. They ask for the stories again and again!
The resources are well-made and clearly structured and have inspired my pupils to create their own little stories.
It is amazing that these are freely available and I am very grateful for your hard work and generosity."
– Review by a Member of the UK Department for Education Expert Committee on Language:
"A Green Mouse is an inspiring, free resource that gives lots of interesting, free practice to everyone wishing to learn Spanish and French."
– Comments made by a preparatory school Spanish teacher in the UK:
"The authenticity of your resources makes them so compelling. Just right for the children I teach. ¡Gracias por tu trabajo!"
"Love the listening resources shared by A Green Mouse – so real, so clear, and very human. Dogs are great too."
Comments about individual resources:
Re: Las Fallas – Spanish Festival
– "Really helpful video clearly explaining Fallas."
Re:  Reflexive Verb Practice in French
–  "Excellent travail – J'utilise vos vidéos avec succès auprès d'étudiants adultes analphabètes ou de niveau préalable en français langue seconde ."
– "What an excellent lesson.  I will be using it with my Form 2 after class.  Thank you so much!"
Re: Hobbies in Spanish – Sport and Music
– "A really helpful resource that could be used for pre/flipped learning.  Love the hockey-playing dog. :)"
Re:  My Family in Spanish
–  "Perfect"
Re:   ¿Por qué? Porque no sabe nada … 
–   "Characteristically beautiful, moving, life-affirming resource from  A Green Mouse."
Re:  Spanish Stories
– "Pupils loved your brilliant stories this week. Thank you!"
Re:  Parts of the Body in French
–  "Really excellent visuals and organization of content.  I'm an adult learner but I still really appreciate your videos.  They make learning fun and easy.  Great job!"
–  "Thank you so much for sharing, you are helping to inspire teachers and students all over the world!
Re:  Avoir Practice
– "This helped me for my  Avoir Test.  Thanks!"
– "Excellent, can't wait to use it!"
Re – Je m'appelle Billy:
– "Very inspiring for young students, great for homework pronunciation practice."
– "Lovely resource which will be so useful for my French teaching to home-educated children."
– "This is genius. Thank you!"
Re – Spanish Hamster Story – Se llama Bugatti:
– "Brilliant, thank you so much! This will make a perfect starter video for my year 7 lesson on pets. We have been using the third person to describe our family using 'se llama' and 'tiene' so this links in beautifully.
Re – Spring in French:
– "This is a great way to start discussion about spring and what should be happening, as well as what actually is due to the weather!"
Re – A New Puppy in French:
– "A beautifully put-together presentation. What a cute puppy! My students will love it and learn from it. Thank you!"
Re – French Modal Verbs – Vouloir, Pouvoir, Devoir:
– "Merci beaucoup. It makes the lesson even more interesting for boys."
Re – Spanish Vowel Sounds – A Rap:
– "Thank you for sharing your resource. This resource has been recommended by the Tes Resource Team for its relevance to the 2014 National Curriculum."
– "Very catchy! And easy to adapt to other consonants!"
Re – My family in French:
– "An unusual way of teaching family. Fantastic idea!"
Re – Introductions in French:
– "Not only is this video thoroughly enjoyable but I am so pleased to discover the green mouse website. Thank you!"
Re – Recipe for Refried Beans:
– "Delicious recipe – Good starting point for looking at instructions, healthy eating or discussing Mexico. Gracias.
Re – Parts of the Body in Spanish:
– "Brilliant – This is exactly what I need for independent learning for my more able Year 3s. ¡Gracias!"
Re – Spanish Holidays – Past, Present and Future:
– "I like the way that this video is structured to give a clear example of a discussion about holidays. ¡Gracias!"
. . . . . . . . . . . . . . . . . . .