Spanish Songs for Kids
Spanish Songs for Children with Video Clips, Lyrics, Translations, Actions and Repetition.
Pre-school + Primary Spanish Songs.
Listen for FREE to all the songs, and click on the green links for the English translations and more information about each song, or go to iTunes to learn and join in with A Green Mouse songs which include English explanations and translation tracks:


Mis Manitas:
Mis Manitas is a gentle Spanish lullaby for babies and young children.  Click here for more information about Mis Manitas:
Mis Manitas
EL BARQUITO CHIQUITITO
First verse of a traditional Spanish song about a little boat.
Click here for more information about El Barquito Chiquitito:
El Barquito Chiquitito

UN PERRITO CHIQUITITO
Using the tune for El Barquito Chiquitito, join in and enjoy this story with live video of a puppy trying to escape (+ an explanation of Modal Verbs!):
Un Perrito Chiquitito
En la granja de Pepito
–  On Little Joseph's Farm
Similar to: 'Old Maconald had a farm':
Click here for more information:
En la granja de Pepito
Ask and Answer questions about Animals:
Animals in Spanish
Spanish Numbers Song:  0 – 10
Think about the sounds in this numbers song:  0 hasta 10

SPANISH TONGUE TWISTER for the letter 'R'
El Perro De San Roque:  Good practice for using double Rs + single Rs:
SPANISH VOWEL RAP:
Join in with this Spanish vowel rap for children, funny for English speakers, to learn Spanish vowels:
JUAN PEQUEÑO BAILA
– Little John Dances
Lively Spanish action song for learning parts of the body
ACTIONS:  Point at each body part as you sing its name:
Click here for more information about Juan Pequeño Baila:
Juan Pequeño Baila
For more about 'The Body' in Spanish try this:
Parts of the Body
YO ME MUEVO  – I move
Spanish action song in which children move forwards, backwards & from side to side …
Click here for more information about 'Yo me Muevo':
Yo me muevo
Cielito Lindo
Simple recording of this famous Mexican song, frequently sung at football matches, with guitar chords and ideas of how students could make up and add verses:  Cielito Lindo
– – –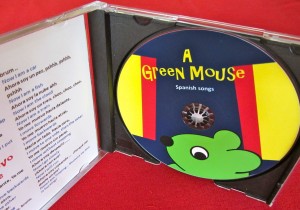 Index to all resources:
French Resources
Spanish Resources