French Food and Drink Resources
Learn about food and drink in French, the vocabulary, how to buy, eating out, going to a café, meals and recipes in French.
These video resources aim to help students to ask about and describe food in French.  Each one includes a video clip, video transcript and follow-up questions:
1.  Fruit in French in short phrases:
Fruit in French
2.  Du, De la, De l', Des + DE –  
(Partitive Articles)
How to buy food in a French Market:
At the Market in French
3.  How to talk about Eating out, Doing Chores, and food related Activities in French:
Going to a Café
Repeat of 'Going to a Café in French' Video with each phrase repeated twice for more support:
4.  Talk about Breakfast in French:  At home and in a café in France
Breakfast in French
5.  Short KS2 French story about Suppertime …
Supper! 
6.  Recipe in French for Leek Tart:
Tarte aux Poireaux
7.  Basic Biscuit Recipe and instructions in French:
Make Biscuits in French
8.  Easy French Recipe for a Three Kings' Day Cake:
Galette des Rois
To Return to the Main French Page:  French for Children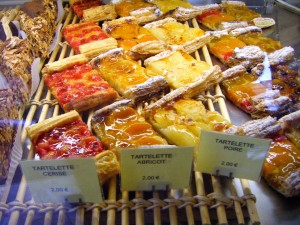 Index to all resources:
French for Children
Spanish for Children
.