Recipe for Galette des Rois – Three Kings' Day Cake:
French Seasonal Traditions
Here is an easy recipe for a Galette des Rois using ready-made pastry:  It's fun, delicious, and the video clip in French (French/English subtitles) offers clear visual instructions and good practice for anyone learning French.
–  Recipe Instructions in French and English are also printed below the video clip

Ingredients:
1 packet de pâte feuilletée    puff pastry
50g de pâte d'amande               marzipan
50g de sucre glace                       icing sugar
1 oeuf battu                                     beaten egg
un peu de farine                            a little flour
extrait d'amande                          almond extract
extrait de vanille                          vanilla extract
une fève ou une amande         figurine or almond
FOUR:  15mns à 210C              Oven 
A coin is often hidden in a Christmas pudding …  In France a tiny figure called a 'fève' or an almond is hidden in a 'galette des rois' – Watch the video and see the fève nestled in the almond mixture.
How to make a Galette des Rois:
Video Transcript in French:
(The Verbs are highlighted)

UNE GALETTE DES ROIS
Ouvrez un paquet de pâte feuilletée
Coupez deux cercles de 18 centimètres
Comme ça.
Mettez-les dans le frigidaire.
Prenez un saladier ou un robot ménager.
Ajoutez 50g de pâte d'amande.
Ajoutez 50g de sucre
Ajoutez un demi-oeuf battu,
quelques gouttes d'extrait d'amande,
queques gouttes d'extrait de vanille,
et une grande cuillère à soupe de farine.
Mélangez bien le tout.
Étalez la pâte d'amande sur le cercle de pâte feuilletée.
Voici des fèves.
Je choisis celle-là.
Vous pouvez aussi choisir une amande.
Cachez la fève dans la galette.
Refermez la galette avec l'autre cercle.
Collez bien les bords.
Dessinez au couteau et percez le dessus de petits trous.
Dorez avec ce qui reste de l'oeuf battu.
Enfournez à 210C pendant 15 minutes.
La galette doit être dorée.
Parfait!
Prenez du sucre glace,
et versez un peu dessus.
Une galette des rois!
Qui va trouvez la fève?!
– – – – –
Instructions + Video Transcript in English:

Open a packet of puff pastry
Cut two circles of 18 cm
Like this.
Put them in the fridge.
Get a bowl or a food processor.
Add 50g of marzipan
Add 50g of sugar
Add 1/2 a beaten egg,
a few drops of almond essence,
a few drops of vanilla essence,
and a large spoonful of flour.
Mix it well together.
Spread the almond paste on the circle of puff pastry.
Here are the 'fèves'.
I choose this one.
You can also choose an almond.
Hide the fève in the galette.
Close-up the 'galette' with the other pastry circle.
Stick the edges well together.
Use a knife to draw across the top and pierce it with little holes.
Spread it with the rest of the beaten egg.
Cook at 210C for 15 minutes.
The galette should be golden brown.
Perfect!
Get some icing sugar,
Sprinkle a little on top.
Who is going to find the fève?!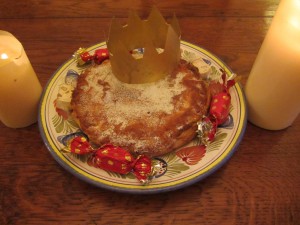 Main French Page:  Learn French
.