Pâte à Sel Recipe + Instructions:
French children know all about 'pâte à sel'. It is an excellent activity for anyone, and the recipe is easy.
Put aside the play dough or plasticine for a while, introduce children to 'pâte à sel', and enjoy the wonderful creations.
Creations made out of pâte à sel will last for years.
The Recipe:
Pâte à sel ingredients:
1 cup salt
1 cup warm water
2 cups flour
(make sure the same cup-size is used for all ingredients)
Basic Kit:
knife
rolling pin
tooth picks (for decorating, making shapes, and for sticking shapes to each other)
tin foil – for filling out the inside of larger models to make sure they cook thoroughly
paint brush – use with tiny amounts of water to stick shapes together & for wetting the dough
acryllic paints and different-sized brushes for painting the finished models
wood varnish
Method:
Mix the salt and flour together first, then slowly add the water and work to a smooth workable paste.  If it is too sticky add a little more flour and salt which you should mix together first.
The dough will be easier to work with if the atmosphere is quite humid, and will dry out more quickly if it is a dry day.  Have a paint brush handy to brush the mixture with a little water if it starts drying out.  Also keep cling film or a plastic bag nearby to wrap the spare dough in, either while you are working with just some of the dough, or if you need a break.  (The dough can be kept for several days in an airtight bag – just brush it with a little water to get it going again)
Be as inventive as you wish in your design, choice of materials, implements, food colouring etc..
Useful Tip:
If you want to dangle your creation, make a hole in it before you cook it, and don't make it too heavy.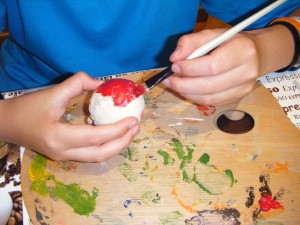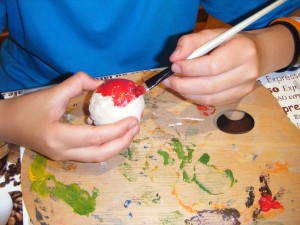 Cooking time:
Very slow oven (100 degrees) for several hours.  Turn the models over during cooking and make sure they are thoroughly dried out on both sides.
Give the finished models 1-2 coats of wood varnish to preserve them.  And finally, leave the varnish to dry for 24 hours.
 Pâte à sel can be as intricate and detailed as you like:
Numbers are a fun, easy thing to start with.  Children like making the number for their age and then decorating it with a few tiny flowers and shapes.
In the video below you will see an angry bird being made!
Video