Free French Character Resource
Learn French character adjectives in the friendly cross-curriculum context of describing the appearance + personality of birds … There is even a gang! 
This resource encourages an interest in the environment and includes a subtitled video clip, the transcript in French, and comprehension questions.
The courageous robin, the mean member of the gang, the clumsy pigeon ..!

Character Adjectives in the Story:
Masculine          Feminine
effrayant       –  effrayante      frightening
mignon           –  mignonne       sweet
agressif          –  agressive         aggressive
petit                 –  petite                 small
fier                    –  fière                   proud
courageux    –  courageuse    brave
impudent      –  impudente      shameless
beau                 –  belle                   handsome, beautiful
discret            –  discrète            discreet
distingué       –  distinguée       distinguished
lent                   –  lente                   slow
maladroit      –  maladroite      clumsy
méchant        –  méchante         mean
puissant         –  puissante         powerful
fort                   –  forte                    strong
consciencieux
/consciencieuse            Conscientious
timide (m) (f)                                  timid
sympathique (m) (f)                    friendly
French Character Adjectives in a Story:
Video Transcript in French:
Une parodie de la vie humaine!
Je vous présente le McDo des oiseaux:
Voyez-vous quelque chose?
Tout le monde est caché!  Ils ont peur.
Le boss est là!
Il est effrayant.  C'est un oiseau de proie!!
Après le boss il faut faire attention à la jacasse!  (also called – pie f)
Ce petit poussin est mignon!  Mais attention!!
Les jacasses sont agressives et peuvent manger les petits!
Les petits oiseaux sont timides.  Ils font la queue dans les arbres.
Les mésanges bleues sont toujours là.
Elles sont sympathiques!
Et le rouge-gorge est un oiseau fier et courageux.
Oh zut alors!  L'écureuil arrive.
Vous êtes impudent! Ce n'est pas pour toi!
Allez-y Maggie!  Chasse l'écureuil!
Tu es consciencieuse!
Ah, Monsieur et Madame Bouvreuil!
–  Monsieur est rouge et beau.
–  Madame est plus discrète.
À mon avis les linottes sont aussi des oiseaux distingués.
Un pigeon distingué?  Non!
Il est lent et maladroit, et il n'a pas le droit!!
Regardez les poussins de l'année dernière.
Sont-ils les mêmes oiseaux?
En hiver les oiseaux souffrent!
Ils ont besoin de nourriture.
Allez-y les petits, mangez!  Le gang va bientôt arriver!
Vous aussi, profitez!
Échappez-vous!
Le premier membre du gang arrive!
Le gang s'installe!
Ils ont l'air méchant et puissant.
Mais le corbeau est beaucoup plus fort!
Donnez à manger aux oiseaux!
– – – – – –
COMPREHENSION QUESTIONS:
(Answer in French)
1. Who is the boss in the story?
2. Describe what the bird of prey is like:
3. The little birds are hiding at the beginning.
What are they feeling?
4. What are magpies like?
5. Describe a robin's character:
6. What is a pigeon like?
7. Who is stronger than the gang?
(Just give the name)
Now answer in English:
8.  What does 'il n'a pas le droit' mean?
9.  Translate "Vous êtes impudent!" into English:
10. It's winter.
What should the little birds do before the gang arrives?
– – – – – – – –
Note:  One way of saying  'to chatter' in French, which is usually translated as 'bavarder', is 'jacasser' –  probably when the chattering is particularly screechy! Have you ever heard a magpie (une jacasse/une pie)?!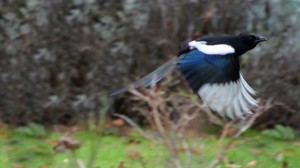 .