French short story using:
Past + Present Tenses
Maggie a grandi!  Maggie has grown!
Free French Story and video clip
1.  Introduction to the passé composé in context
2.  Likes and Dislikes in the present tense
3.  Follow-up questions
This simple description introduces the main 'character' in the  perfect tense (passé composé).
The main content is in the 3rd person present tense and focusses on the character's interests:
Elle aime …  She likes ..
Elle n'aime pas …  She doesn't like …
How many dogs like tobbogganing?!
Watch, listen, repeat & join in with the video:  


TRANSCRIPT IN FRENCH:
Past tense:
Maggie a grandi!
Elle a grandi beaucoup!
Elle a changé énormément!
Elle est devenue coquine!
Present tense:
Connaissez-vous un chien qui aime faire ceci?
Elle aime faire du toboggan!
En plus …
Elle aime jouer à cache-cache!
Et elle aime cacher les choses!
Elle adore jouer dans la boue!
Elle n'aime pas les bains!
Elle n'aime pas aller chez le coiffeur!
Shh … Elle dort!
Écrivez trois choses qu'elle aime faire. 
Écrivez deux choses qu'elle n'aime pas!
– – – – – –
QUESTIONS:
Answer the questions in French in the 3rd person:
Elle aime               = she likes …
Elle n'aime pas   =  she doesn't like …
1.  Qu'est-ce que Maggie aime faire? 
a) …
b) …
c) …
2.  Qu'est-ce que Maggie n'aime pas faire?
a) …
b) …
Now talk about yourself:
Je!  J'aime … Je n'aime pas!
What are YOUR likes and dislikes?
Write down two of each, from the story or elsewhere:
J'aime …
Je n'aime pas …
Maggie is mischievous:  Elle est coquine!
What are YOU like?
Think about it.
It's why you like some things more than others:
Je suis …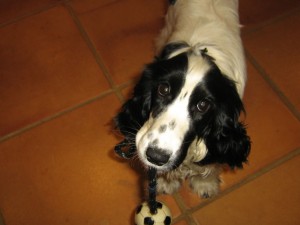 Index to all resources:
French for Children
Spanish for Children
.