Pomme de Reinette
Simple French nursery rhyme, often used for counting.  Enjoy the lemur on the video clip and join in, or go to  iTunes.
The words and English translation are printed below:
Do the actions and join in:


This recording of Pomme de Reinette (plus a translation track) is also available on  iTunes:

Actions: Repeat the verse over and over, bashing fists together, alternating the one on top in time to the rhythm of the words.
Verse:
Pomme de Reinette, Pomme d'Api,
Tapis, tapis rouge.
Pomme de Reinette, Pomme d'Api,
Tapis, tapis gris!
End:
Cache ton poing derrière ton dos!
Hide your fist behind your back!
Sinon t'auras un coup de marteau!
Or it will be hit by a hammer!
Pomme de Reinette = Pippin Apple: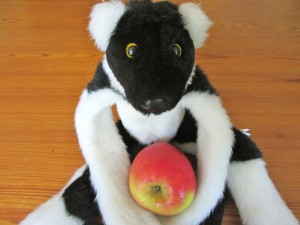 For more free French song recordings go to:
A Green Mouse French Songs for Children

Index to all resources:
French for Children
Spanish for Children
.