KS2/3 French Story
Chez le coiffeur =  At the hairdresser's!
Short story (+ subtitled video) in French which describes a trip to the hairdresser's by two dogs:
One hates going and says  –  Je n'aime pas!
BUT:
Tu as vraiment besoin d'une coupe de cheveux!
You really need a haircut!
Avoir besoin de quelque chose
= to need something
The story is in the present tense, and is full of verbs.
These are some of them.  Can you find them?
Aller                to go
Être                 to be
Aimer             to love
Regarder     to look
Arriver          to arrive
Avoir              to have 
Couper         to cut
Essayer         to try
Adverbs describe verbs:
Look out for these  adverbs in the story:
Aussi                    = as well
Vraiment           = really
Déjà                      = already
Presque              = almost
Tellement          = so
De nouveau       = again, once again
French Listening Practice for Children:
Repeat with Audio in French AND English:
THE STORY IN FRENCH:
(There are French AND English subtitles on the video)
Bonjour Billy!
Aujourd'hui tu vas chez le coiffeur!
Bonjour Maggie!
Aujourd'hui tu vas chez le coiffeur aussi!
Oh là là Maggie!  Tu es toute ronde!
Regardez tes poils!
Tu as vraiment besoin d'une coupe de cheveux!
Peut-être … mais je n'aime pas!
Avec Billy ça va.  Il veut faire tout ce que je veux.
Maggie et Billy sont dans la voiture.
Ils regardent par la fenêtre.
Ils arrivent chez le coiffeur.
Il y a déjà un client.
Il faut couper un peu plus.
Ça y est.  C'est presque fini.
Oh génial!  Qu'est-ce qu'il est beau!
Oh non!  Maggie essaie de s'échapper!
Enfin les cheveux …
ou plutôt les poils de chien(!) sont coupés.
Maggie et Billy sont de nouveau dans la voiture.
Ils sont contents.
Oh Maggie, tu es belle!
Oh Billy, tu es beau!
Ils sont tellement contents …
qu'ils se battent dans le jardin.
Oui, c'est bizarre!
Je vais les emmener faire une promenade.    (les = them)
Oh Maggie!  Ne t'inquiètes pas!
Tes poils vont pousser!
– – – – – – –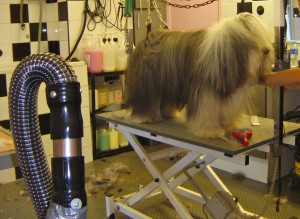 For more French audio stories go to:  French Stories
For quick access to all the free resources go to:
French for Children
Spanish for Children
.