French/English preposition practice:
French grammar story for children to illustrate French prepositions in proper sentences in a visual context:
Billy & the Stick Insects!
Video Clip in French and English
Watch, listen to and join in with the video.  Study the prepositions included in the story:
List of French and English Prepositions:
under                 sous
behind               derrière
in front of         devant
next to               à côté de, etc..!
on                        sur
under                 sous
in front of         devant
against               contre
through, on      par
in                          dans
at the bottom  au fond
at (home)           chez (nous)
with                      avec
while                    pendant
according to     selon
between             entre
Have a good think about how to use prepositions by watching this video in French and English (with subtitles).
How about writing your own preposition story?!
For more French preposition practice go to: French Preposition practice
French/English listening practice using prepositions in context:

VIDEO TRANSCRIPT in FRENCH:
Voici des phasmes.  Ils sont SUR le grillage.
Regardez:  Il y a un petit SOUS la feuille.
Un grand est DERRIÈRE et un autre est À CÔTÉ.
Ce phasme a ses pieds CONTRE la glace.
Les phasmes sont faciles à garder.
Tout ce qu'il faut c'est de l'eau et des feuilles.
Billy regarde PAR le grillage.
Aujourd'hui il faut nettoyer la cage.
Billy aime aider.
Les chiens vont DANS le jardin pour chercher des feuilles.
Nous avons de la chance…
CHEZ NOUS il y a les feuilles nécessaires DANS le jardin.
Billy trouve les feuilles AU FOND du jardin.
Je montre les feuilles À Maggie.
Nous mettons des feuilles DANS la cage AVEC de l'eau aussi.
Je garde ce petit DANS ma main PENDANT que je nettoie la cage.
Billy est DEVANT la glace.  Il regarde!
SELON lui il y a ENTRE six et sept phasmes DANS la cage.
MAIS ils sont difficiles À voir! – – – – –
For quick access to all the free resources go to:
French for Children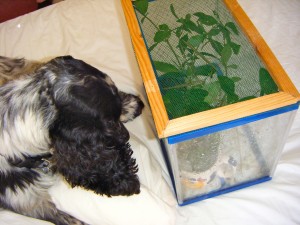 .