KS2 Spanish Story – My Hamster is ill!
Short friendly story in the 3rd person present tense about two speedy hamsters.  One of them becomes ill.
Watch and join in with the video clip (Spanish + English subtitles), 
Comprehension questions and the words of the story in Spanish are printed below the video:
List of Verbs used in the 3rd person:
es                    = it is
se llama       = it is called
corre             = it runs
vive                = it lives
hace               = it does
mastica        = it chews
quiere           = it wants
necesita       = it needs
está durmiendo = it is sleeping
está (enfermo)    = it is (ill)
está (mejor)          = it is (better)  
¿Eso qué es?  ¡Es un hámster!

VIDEO TRANSCRIPT IN SPANISH:
¿Eso qué es?  ¿Qué es eso?
¿Sabes?  ¿Tienes alguna idea?
¡Sí!  Es un hámster.
Se llama Bugatti.
Corre muy rápido.
Vive con su hermano.
Su hermano se llama Veyron.
Corren mucho.
Bugatti hace gimnasia.
Veyron mastica las barras de su jaula.
Quiere escapar.
¡Son muy lindos!
Hoy Bugatti está durmiendo.
¡Ay no!  ¡Está enfermo!
Necesita tomar un medicamento.
Pero es difícil.
Pobre Bugatti.  Pero ya está mejor.
¡Qué bien!  Están jugando.
Adiós amiguito.
COMPREHENSION QUESTIONS USING:
¿Qué?          = What?
¿Cómo?      = How?
¿Quién?      = Who?
¿Por qué?  = Why?

1.  ¿Qué es Bugatti?
What is Bugatti?
….
2.  ¿Cómo corre?
How does he run?
….
3.  ¿Vive con quién?
Who does he live with?
….
4.  ¿Qué hacen los dos hámsters?
What do the two (both) hamsters do?
….
5.  ¿Quién quiere escapar?
Who wants to escape?
….
6.  ¿Cómo son los hámsters?
What are the hamsters like?
….
7.  ¿Por qué está durmiendo Bugatti?
Why is Bugatti sleeping?
….
8.  ¿Qué necesita tomar Bugatti?
What does Bugatti need to take?
….
– – – – –
For main Spanish page go to:
Spanish for Children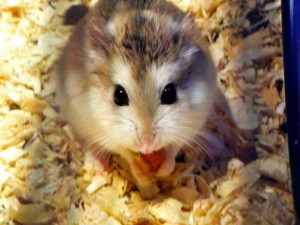 .