Reflexive Verbs in Spanish
Friendly listening and grammar practice using reflexive verbs in Spanish via a short story about the birth of a litter of puppies.
Read through the grammar or go straight to the video clip.
Read the transcript, answer the questions below and then go to this gap-fill exercise:
Reflexive Verb Worksheet
 
Grammar:
A reflexive verb in Spanish needs a reflexive pronoun:
E.g:  Lavarse = to wash (to wash oneself)
me  lavo  –I wash (myself)
– te lavas,  se lava,  nos lavamos,  os laváis,   se lavan      
Without a reflexive pronoun a verb is NOT reflexive
Eg:  Lavar:  Lavo el gato    I wash the cat
List of Reflexive Verbs in the story:
despertarse      to wake up
lavarse                 to wash
cepillarse los dientes  to brush one's teeth
vestirse               to get dressed
apurarse (apresurarse)  –  to hurry
preocuparse     to worry/feel anxious
ocuparse             to take care of/look after
enamorarse       to fall in love
sentarse               to sit down
llamarse               to be called
encontrarse       to find oneself/to meet up with
ponerse                to put oneself
encargarse         to take charge of/to manage
acostarse             to go to bed
escaparse            to escape
permitirse           to be allowed
enfadarse            to get cross
divertirse             to have fun
esconderse         to hide (oneself
There are more reflexive verbs in Spanish than in English.
Spanish Reflexive Verbs: Video Clip
2.  Repeat Video Clip with NO ENGLISH:

Video Transcript in Spanish:
Me despierto
Me lavo. Me cepillo los dientes, y me visto.
¡Pero hoy me apuro!
Es el 23 de diciembre y mi mamá dice que hoy nacen los cachorros.
¡Me preocupo!
Por fin nace el primero.
La madre se ocupa del pequeño.
¡Nos enamoramos completamente!
No hay tiempo para sentarse. ¡Mira!
El padre se llama Riddick.
Al final nos encontramos con cuatro cachorros.
Se ponen a comer en seguida.
Maggie se encarga muy bien de sus cachorros.
Se acuestan en una caja.
Se quedan juntos todo el tiempo.
Poquito a poquito empiezan a caminar.
¡Se meten por todas partes!
¡Billy es uno de los cachorros!
¿Cuál es?  ¡Es el más gordo!
¡Cuidado! ¡Éste se escapa!
¡No, no se permite!
¡Me enfado!
¡Os encontráis en una jaula ahora!
Nos divertimos mucho con los cachorros.
¡Se esconden en el jardín por ejemplo!
¡Qué tranquilo es cuando se acuestan!
El sol se acuesta también.
Comprehension Questions + Verb Practice:
(Answer in Spanish converting the verbs from the infinitive)
1. ¿Qué hago cuando me despierto?
a)    Despertarse
b)    Lavarse
c)    Vestirse
2.  ¿Por qué me apuro?
        Preocuparse
3. ¿Qué sentimos cuando vemos el primer cachorro?
        Enamorarse
4. ¿Qué se ponen a hacer los cachorros?
       Ponerse a comer
5. ¿Cómo se ocupa Maggie de los cachorros?
       Encargarse
6.  ¿Dónde se acuestan?
       Acostarse
7.  ¿Por qué se encuentran los cachorros en una jaula?
Escaparse
8.  ¿Qué hace el sol todos los días?
       Acostarse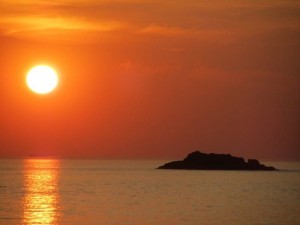 Index to all resources:
French for Children
Spanish for Children
.