About me in Spanish: Me llamo Billy
How to describe yourself in Spanish:
Meet Billy and listen and join in as he introduces himself in Spanish and talks about his home, family, environment, character, and likes and dislikes:
¿Cómo te llamas?  What is your name?
¿De dónde eres?    Where are you from?
¿Cómo eres?             What are you like?
The resource includes:
–  Video clips in Spanish, and/or Spanish + English
–  Printed story in Spanish
–  Comprehension questions
Spanish Listening + Oral Practice:
Repeat with audio in Spanish AND English for more support:
Video Transcript in Spanish
(Useful for translation practice which can be checked by watching the video again)
¡Hola!  Me llamo Billy.
Soy un perro inglés,
y soy un muchacho.
Mi padre se llama Riddick,
y mi madre se llama Maggie.
Tengo tres hermanas.
Vivo en una casa con mi mamá …
en una ciudad en Inglaterra.
¡La quiero mucho!
Me gusta jugar con ella …
y con mis juguetes también.
Soy muy cariñoso,
y trato de ser bien educado también.
Tengo muchos amigos.
Esta es una de mis hermanas.
Me encanta ir de paseo.
¡No me gustan los cepillos!
– – – – –
Comprehension Questions:
(Answer in Spanish from the story + video clip)
In Spanish:
1.  ¿Cómo te llamas?
What is your name?
2.  ¿De dónde eres?
Where are you from?
3.  ¿Cómo se llama tu padre?
What is your father called?
4.  ¿Dónde vives?
Where do you live?
5.  ¿Cuántos hermanos tienes?
How many brothers and sister do you have?
6.  ¿Cómo eres?
What are you like?
7.  ¿Qué te gusta hacer?
What do you like doing?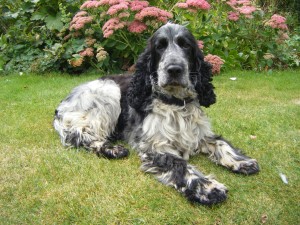 Main Spanish Page:
Spanish for Children
.