Spanish Preposition Practice:
Learn and use prepositions in the context of a friendly story in Spanish about looking after pet stick insects.  The resource includes:
–  List of Spanish prepositions
–  Video clip in Spanish
–  Gap fill exercise
–  English translation
List of Spanish Prepositions
Según               according to
En                        in
Entre                 between
Durante           during
Con                     with
Hacia                 towards
Contra              against
Por                      through
(Por has other meanings too)
Desde                from
Hasta                 until
Dentro de       inside
Debajo de       under
Detrás               behind
En frente de   in front of
Después de     after
Sin                        without

Billy and the Stick Insects:
 Gap Fill Exercise:
Read the sentences and translate the prepositions from English into Spanish:
El perro tiene la nariz pegada (against) el vidrio.
Ahora mira (through) la red.
(Inside) la jaula hay insectos palo.
Hay un insecto palo muy chiquito (under) una hoja.
Dos grandes están (behind).
(According to) Billy hay (between) 6 y 7 insectos (in) la jaula.
De vez en cuando hay que limpiar la jaula.
(During) el proceso hay que tener cuidado (with) los insectos palo pequeños.
¿Me ayudas Billy?
Los perros corren (towards) las hojas.
¡Sí Billy!  ¡Estás (in front of) las hojas!
(After)  encontrar las hojas, hay que buscar agua.
(Without) falta Billy se interesa (from) el principio (until) el final.
¡Gracias Billy!
English Translation of the Story:
(pick out the prepositions)
The dog's nose is stuck against the glass.
Now it looks through the mesh.
Inside the cage there are stick insects.
There is a very small stick insect under a leaf.
Two big ones are behind.
According to Billy there are 6 or 7 insects in the cage.
Sometimes it is necessary to clean out the cage.
During the process care needs to be taken with the small stick insects.
Are you helping me Billy?
The dogs run towards the leaves.
Yes Billy!  You are in front of the leaves!
After finding the leaves, it's necessary to fetch water.
Without fail Billy is interested from the beginning until the end.
Thank you Billy!
– – – – –
More Spanish Preposition Practice:
Por and Para Practice
Prepositions: A, DE, Y, EN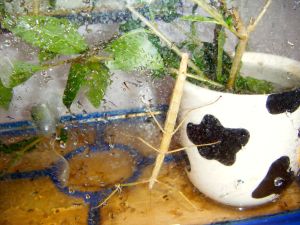 Index to all resources:
French for Children
Spanish for Children
.