Au, à la, à l', aux + En, à
Au,  à la,  à l',  aux  = French prepositions which mean to, at, where.

Use  au  in front of masculine words
au  cinéma (m)   to/at the cinema
(au = à + le … but sounds better!)
il va  au  cinéma   

Use à la  with feminine words:
à la plage (f)        to/at the beach
il va à la plage(f)

Use à l'    with ALL words beginning with a vowel:
à l'école                to the school
il va à l`école   (use l' in front of a vowel)

Use aux  with all plural words (masculine and feminine):
aux magazins  to/at the shops
il va aux magasins
The video clip, Gap-fill Worksheet, and listening test below provide practice using these prepositions in sentences that say where people are or where they are going, followed by transport prepositions (en + à) to say how they get there:
Eg:
en voiture  =  by car
à velo            =  by bike
il va en voiture   he goes by car
il va en avion       he goes by airplane
il va en bateau    he goes by boat
il va en train         he goes by train
il va en moto        he goes by motorbike
il va à pied             he goes on foot
il va en vélo           he goes by bicycle
(il va à vélo  is also correct)
Watch, listen, and join in with the video.  Then read the transcript and do the listening test.
French Preposition Practice:
TRANSCRIPT OF THE VIDEO IN FRENCH:
Nous allons à la plage.
Nous allons en avion.
Le chien va en voiture.
Elle va à la plage aussi.
Elle va au collège.
Elle va en vélo.  Elle va à vélo.
Les élèves sont à l'école.
Ils voyagent en bus.
Ils arrivent à la ferme.
Ils donnent à manger aux animaux.
Ils retournent à l`école en bus.
Nous allons aux États Unis.
Elle va au travail.
Elle va à pied.
Ils vont au cinéma.
Ils vont en train.
Le chien est à la campagne.
Elle est à pied.
La fille va aux magasins.
Elle va en train.
Ils vont à Paris.
Ils vont en chemin de fer.
Le garçon va en France.
Il va en bateau.
Il va en vacances au Canada.
Il va en bateau.
Il cherche quelque chose …
Un ours au bord de la rivière.
2.  Listening Test  – Pick out the Prepositions:
This video is in two parts. Write down the prepositions as you hear them in Part One, then check your answers by listening to Part Two:
For reinforcement, fill in the missing prepositions on the following gap-fill worksheet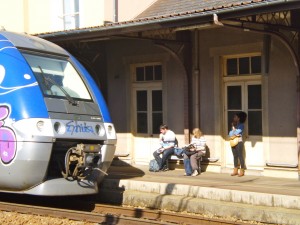 For a wider variety of French prepositions go to:
French Preposition Practice or
Prepositions: Billy & the Stick Insects
.