Colours in French +  Agreements
Free French Grammar + Downloadable Exercise + Listening practice for Children:
Colours are adjectives.  In French they go after the word they describe.
Eg:
The white dog  becomes  the dog white:
Le chien blanc.
Most simple colours in French, except for Orange and Marron, change their endings to agree with the word (noun) they describe.
E.g:
Masculine:
The green pencil
=  Le crayon vert

Feminine:
The green car
=  La voiture verte

Masculine Plural:
The green pencils
= Les crayons verts
Feminine Plural:
The green cars
= Les voitures vertes 
Invariable Colours:
–  Orange and Marron never change their endings.
They are called invariable colours.
–  Colour Combinations  and colours which have clair (light) or foncé (dark) added to them are also invariable and never change:
Eg:
la voiture vert foncé  =  the dark green car
Study this table for more information on gender and singular and plural endings.
Then watch, listen and join in with the video clips below: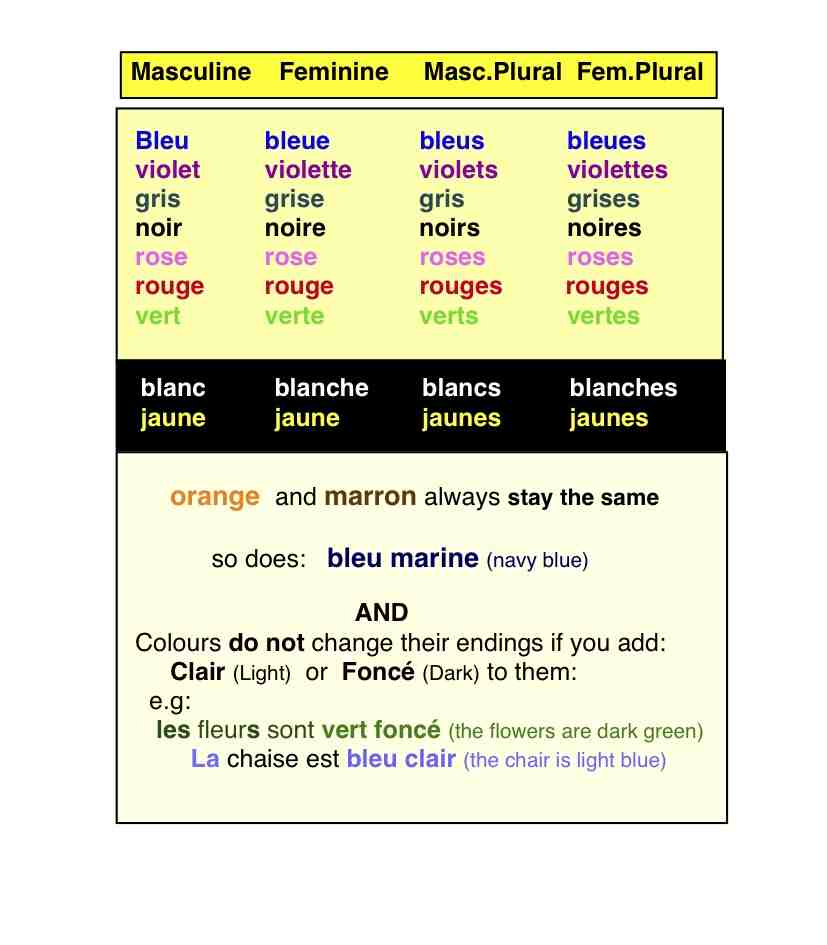 Clear sentences to illustrate when and how colours agree with the nouns they describe in French:
Downloadable Worksheet:  Colours in French Worksheet
Colours in French + Gender Worksheet

. . .
Grammar Exercise:
Translate the colours into French, making sure that they 'agree' where necessary – Answers can be checked via the Video Clip:
1.  La fleur(f) est blue.
…
2.  La fleur(f) est light blue.                 
…
3.  Le camion light blue a des bûches(fpl) brown.
…
4.  Les fleurs(fpl) pink sont jolies  
…
5.  Les fleurs(fpl) sont dark green.
…
– – –
Click here for practice describing animals by their colour using c'est + il est: Animals in French + Colours
More practice re position of colours AFTER the noun in French:
Main French page:French Resources