KS3 Spanish Holiday Resource: Past, present & future
There is so much more to Spain than the wonderful beaches!
This free Spanish listening practice focusses upon an activity holiday in the mountains in Northern Spain (Los Picos de Europa).
Sentences in the past tense refer to last year's holiday, before a lively visual description of paragliding in the present tense.
The resource includes:
– Video clips in Spanish (with subtitles)
– Video transcript in Spanish
– Comprehension questions (Spanish AND English)
Watch, listen and join in with the video clips.
Read the transcript and answer the questions below.
Free KS3 Spanish Listening Practice:
1. Audio in Spanish (Spanish/English subtitles):


2. Spanish (with subtitles) NO English:

Video Transcript in Spanish
MIS VACACIONES:
¿A dónde vas este año?
Voy a España, como el año pasado.
Viajo con mi mochila y mi pasaporte.
No me hace falta un traje de baño este año.
El año pasado fui a la Costa Brava.
Me gustó mucho pero quiero ver otros lugares.
Este año estoy en el norte en las montañas.
Voy a hacer parapente.
¡Me gustaría volar!
¡Tengo un instructor muy simpático!
¡Hay que luchar contra el viento!
¡Qué macanudo!
¡Impresiona eh!
¡Ay que bonito es!
Abajo hay viento.
¡Aquí arriba está tan tranquilo!
¡Mira, mira, mira!
¡Es una gozada!
¡Qué suerte tengo!  ¡Es impresionante!
¡El paisaje es maravilloso!
¡Es valiente eh!
¡Es valiente eh!
¡Estoy volando!
¡Funciona!
¡Me gustó mucho la playa, pero esto es mejor!
¡Tengo que aprovechar!  ¡Esto no se hace todos los días!
¡Voy a acordarme de esto para siempre!
COMPREHENSION QUESTIONS: 
(Reply in Spanish as the student in the video)
In English:
1.  Where are you going on holiday this year?
2.  Do you need a swimsuit?
3.  Which part of Spain did you go to last year?
4.  Why are you not going back this year?
5.  What are you going to do in the mountains?
6.  What is the instructor like?
7.  What is the countryside like?
8.  Did you like the beach?
9.  Are you going to remember the opportunity to go hang gliding?
In Spanish:
1. ¿A dónde vas de vacaciones este año?
…
2. ¿Te hace falta un traje de baño?
…
3. ¿A qué parte de España fuiste el año pasado?
…
4. ¿Por qué no regresas este año?
…
5. ¿Qué vas a hacer en las montañas?
…
6. ¿Cómo es el instructor?
…
7. ¿Cómo es el paisaje?
…
8. ¿Te gustó la playa?
…
9. ¿Vas a acordarte de la oportunidad de hacer parapente?
…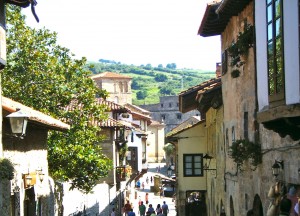 Here is another Spanish Holiday resource:
My Summer holiday in Spanish: Past, present, future!

Index to all resources:
French for Children
Spanish for Children
.