¡Vale la pena! = It's worth it in Spanish.
It's literal translation = It's worth the pain!
This is the first post by A Green Mouse, a free website and YouTube channel created to provide worthwhile early language practice in French and Spanish.
The image of the goldfinch chick below, beak open, hopeful and enthusiastic, symbolises the carefree energy and enthusiasm of children, and all that A Green Mouse stands for.
Children can develop very good pronunciation in a second language if they are exposed to it early enough.
It is a question of opportunity, not one available to all children, so this website is accessible and free to try to reach out and provide it for any child.
Accessible French and Spanish Practice for anyone … 
We all want to help our little guys to fly …!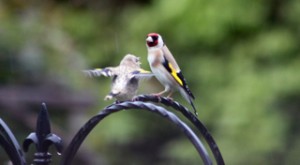 Having a second language feels good, it makes life more interesting, it is good for the brain.
By starting young we give our children a better chance of success.