How to Ask for Directions in French
Learn how to ask for and listen to directions in French by taking a friendly tour of some of the best views in the centre of Paris.
This free French listening Resource includes:
– Two video clips in French (with and without English subtitles)
– French vocabulary for asking directions
–  Video Transcript in French
List of Vocabulary:
Excusez-moi       Excuse me.      
S'il vous plaît?    Please?
Où est ..?                Where is ..?
Pour aller à ..?     What is the way to ..?
un rond-point     a roundabout
à gauche                 on the left
à droite                   on the right
derrière                  behind
devant                     in front
en face de              facing
à côté de                next to
loin                            far
près                           near
après                        after
la première           the first
la deuxième         the second
la troisième          the third
VERBS:                              
Tourner           to turn       
Traverser       to cross
Monter            to climb
Prendre           to take
Mener à           to lead to

DIRECTIONS:
Tournez            Turn
Traversez        Cross
 Montez            Climb
Prenez               Take
La rue mène à …       The street leads to
Tournez à droite      Turn right
Tournez à gauche    Turn left
Traversez la rue        Cross the street
Prenez la deuxième rue à droite …
– Take the second street on the right
Directions in French for Beginners
Video No: 2 with French/English subtitles & slower French Audio:
Video Transcript
À gauche.
À droite.
Tournez!
La lumière tourne à droite
et maintenant à gauche.
Je suis à Paris.
Derrière moi il y a La Défense avec ses gratte-ciel …
et la Grande Arche en face de l'Arc de Triomphe!
L' Arche derrière, tout droit il y a l'Arc de Triomphe.
Autour il y a un grand rond-point.
Après on arrive aux Champs Élysées,
une rue très élégante.
Ne traversez pas la rue.
Elle mène à la Place de la Concorde.
Salut!
Après la Place, il y a les Jardins des Tuileries,
qui mènent …
au musée(m) du Louvre.
Ça fait une belle ligne droite!
Le Louvre est à côté de la Seine.
Traversez la Seine pour aller à l'Île de la Cité.
Montez la Tour Eiffel pour tout voir!
Oh Paris!  Tu es belle!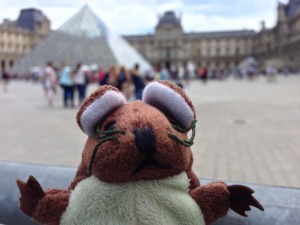 Index to all resources:
French for Children
Spanish for Children
.