KS2/3 Spanish Story:
Past, Present, Future:
Short story practice in Spanish which begins in the past, moves into the present, and ends with a sentence in the future.
Friendly images and subtitled video clip with sentences in the 3rd person for accessible listening and story practice.
Watch, listen and join in with the video clip.  Then read the words and answer the questions below (in English or Spanish).
Maggie ha crecido – Maggie has grown!
The Story in Spanish:
Maggie ha crecido.
Llegó muy chiquitita.
Ha crecido muy rápido,
y ahora está grande:
¡Le encanta ir en el coche!
A veces va a la playa.
¡Mira! Ha encontrado un amigo.
Le gusta el campo también.
¡Y la nieve es fantástico!
Mira como salta.
¡Ataca su amigo!
¿Ahora qué hace?
¡Está en el barro!
Le gusta descansar en su casa.
Más que todo sobre la cama.
¡No tiene permiso!
¡No le gusta esto!
Pero tiene que cortarse el pelo de vez en cuando.
¡Pobre Maggie!
No le gusta cuando nos vamos de vacaciones …
No te preocupes Maggie.
Volveremos muy pronto.  (future tense)
– – –
COMPREHENSION QUESTIONS:
1.  ¿Cómo llegó Maggie?
How did Maggie arrive?
2.  ¿Le gusta ir en coche?
Does she like going in the car?
3.  ¿Cómo es la nieve?
How is the snow?
3.  ¿Dónde le gusta descansar?
Where does she like to rest?
4.  ¿Cuándo volveremos?
When will we come back?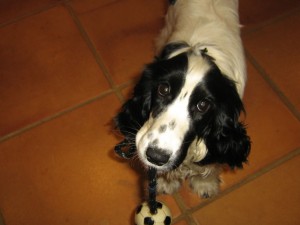 Main Spanish Page:
Spanish for Children
.