Talk about summer in Spanish
Free Spanish listening practice:
Video clip in Spanish + comprehension questions and vocabulary for practice and ideas about how to describe and talk about summer in the UK in Spanish.
Vocabulary:
el verano                 summer
el tiempo                 the weather
las plantas              the plants
las babosas            the slugs
la temporada        the season
las vacas                  the cows
los terneros           the calves
una plasta de vaca  – a cowpat
el sol                           the sun
el abejorro              the bumblebee
la abeja                     the bee
las flores                  the flowers
la tele                         the television
el tenis                      the tennis
los concursos        the competitions
el deporte               sport
los exámenes        the exams
las vacaciones      the holidays
coger una insolación  – to get sunburnt
Yes, it rains, but plants grow, and it makes sunny days even more wonderful.  Spare a thought for places with water shortages …
School, Wimbledon, sport, exams, English gardens, and a longing for the summer holidays – in Spanish.
Practice and ideas of things to consider before describing summer in the UK:
KS3 Spanish Listening:  Summer!
Video Transcript in Spanish
El Verano en Inglaterra:
¡Es por fin el verano!
Empieza el veintiuno de junio.
Es el día más largo del año.
No hace siempre buen tiempo,
pero eso no importa.
Las plantas necesitan agua.
¡Las babosas están muy contentas en la lluvia!
Todo crece muy rápido.
Aquí están las plantas en la primavera …
¡Miran como están ahora!
¡Es la temporada de las fiestas!
Esto es un pastel de fresas francés.
¡Qué rico es!
¡Uy!  ¡Las vacas tienen terneros!
¿Quieres saber lo que es?
Es una plasta de vaca.
A veces hace frío en verano.
¡Pero cuando hace sol es maravilloso!
¡Cuidado!  ¡Puedes coger una insolación!
Mira el abejorro,
y aquí está una abeja.
Las flores en junio son magníficas.
¡Hay tenis en la tele!
¿Quién va a ganar?
Hay concursos de deportes en la escuela,
y algunos exámenes.
¡Llegan por fin las vacaciones de verano!
¡Qué tengan buenas vacaciones!
COMPREHENSION QUESTIONS:
In English:
1.  When does summer begin?
2.  Is it always fine weather?
3.  How are the slugs in the rain?
4.  What do the cows have?
5.  How are the flowers in June?
6.  Is it cold in summer?
7.  Why do you need to be careful?
8.  What is on television?
In SPANISH:
1.  ¿Cuándo empieza el verano?
…
2.  Hace siempre buen tiempo?
…
3.  ¿Cómo están las babosas en la lluvia?
…
4.  ¿Qué tienen las vacas?
…
5.  ¿Cómo son las flores en junio?
…
6.  ¿Hace frío en verano?
…
7.  Por qué hay que tener cuidado?
…
8.  ¿Qué hay en la tele?
…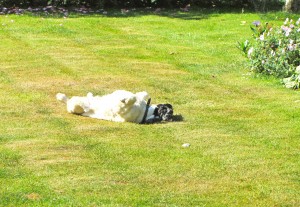 .