My Room in Spanish
¿Qué tengo en mi cuarto?
What do I have in my bedroom?
Spanish video clip and practice to learn the vocabulary for things in a bedroom using Tengo (I have) + prepositions to say where things are:
Spanish/English Bedroom Vocabulary:
la cama                the bed
la cómoda          the chest of drawers
la estantería     the bookcase
la pared               the wall
la puerta             the door
la alfombra        the rug
la silla                   the chair
la lámpara          the lamp
el espejo             the mirror
el escritorio      the desk
el armario          the closet
el suelo                the floor
Spanish/English Prepositions:
en                       in
sobre                on
encima de      on, on top of
detrás de        behind
en frente de  in front of
al lado de        beside
contra               against
entre                 between
Watch the video.  Listen to the words and read them on the screen.  Read the transcript below and learn the vocabulary:
Video Transcript in Spanish:
(The prepositions are highlighted)
¿Qué tengo en mi cuarto?
Tengo paredes.
Tengo un espejo contra la pared.
Tengo una puerta.
Tengo un bolso detrás de la puerta.
Tengo una ventana.
Tengo una planta en frente de la ventana.
Tengo una estantería en mi cuarto.
Tengo una estantería.
Tengo un avión encima de la estantería.
Tengo una cama.
Tengo una guitarra y un calcetín sobre la cama.
Tengo un armario.
Tengo ropa en el armario.
Tengo un escritorio y una silla.
Encima del escritorio tengo una lámpara y un guía.
Tengo zapatos debajo de mi escritorio.
Tengo una alfombra.
Tengo una alfombra en el suelo.
Tengo una cómoda.
Tengo cosas al lado de mi cómoda.
Tengo una papelera.
Tengo una papelera entre la cómoda y la cama.
¿Qué tienes en tu cuarto?
Extra Vocabulary:
el bolso        the bag
la planta       the plant
el avión         the airplane
la guitarra    the guitar
el calcetín    the sock
la ropa            the clothes
el guía            the guide, guidebook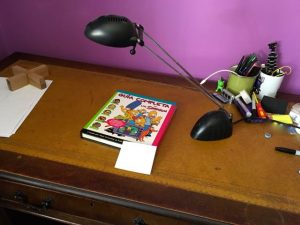 Index to all resources:
French for Children
Spanish for Children
.