French and Spanish songs for children
This collection of song recordings with English translation tracks for English-speaking children to learn well-known, traditional French and Spanish songs and nursery rhymes marks the beginning of A Green Mouse:
Introduction
French for Children
Spanish for Children
The songs were recorded with lots of repetition to give young children the opportunity to hear and pronounce French and Spanish sounds, learn and join in with a variety of songs.
The actions and separate translation tracks help children to learn the songs and sing along for early listening and oral practice.
For more information, and to listen to all the songs for free, go to:
French Songs for Kids
Spanish Songs for Kids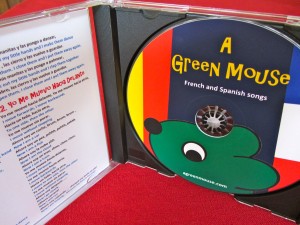 The songs are also available on CD and on iTunes:


Examples of two of the songs:
  Spanish:  MIS MANITAS

French:  POMME DE REINETTE:



This rhyme is popular in French nursery schools:   The lemur on the video clip 'tries' his best, but is not very accurate ..!
Do the actions and join in:
Index to all resources:
French for Children
Spanish for Children
.