French and Spanish songs for children
This collection of French and Spanish songs and nursery rhymes marks the beginning of A Green Mouse.
The songs were recorded with lots of repetition to give young children the opportunity to hear and pronounce French and Spanish sounds, and enjoy and join in with a variety of songs.
The actions and separate translation tracks help children to learn the songs and sing along for early listening and oral practice.
If you would like a CD please make a donation via paypal with your address, stating your request for a French, Spanish, or French and Spanish CD.
For more information, and to listen to all the songs for free, go to:
French Songs for Kids
Spanish Songs for Kids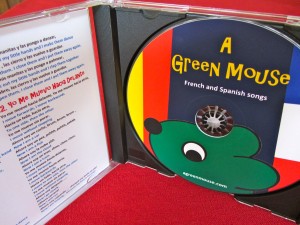 The songs are also available on iTunes:


Examples of two of the songs:
  Spanish:  MIS MANITAS

French:  POMME DE REINETTE:

This rhyme is popular in French nursery schools:   The lemur on the video clip 'tries' his best, but is not very accurate ..!
Do the actions and join in:
Main French and Spanish Pages:
French Practice
Spanish Practice