French and Spanish songs for children
This is a collection of traditional French and Spanish songs and nursery rhymes with English translations, recorded as a playlist for a pre-school music group, for young children and their parents to learn and gradually join in with.
The actions, repetition and English translations help children to learn the songs, join in, and sing along for early listening and oral practice.
There are free lyrics for all the songs on the separate French and Spanish song pages:
French Songs for Kids
Spanish Songs for Kids
The album is available on:  iTunes

And as a CD on Amazon:
 Amazon UK
Amazon. com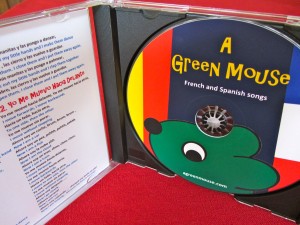 Here are two examples of the some of the songs to join in with and sing along to for free:
  Spanish:  MIS MANITAS



Gentle Spanish lullaby:

French:  POMME DE REINETTE:

This rhyme is popular in French nursery schools:   The lemur on the video clip 'tries' his best, but is not very accurate ..!
Do the actions and join in:
.

Main French and Spanish Pages:
French for Children
Spanish for Children
Youtube Channel:  A Green Mouse
Example of an online French resource:
(also available in Spanish)
Example of an online Spanish resource:
(also available in French)
– – – – –