KS2/3 Spanish story 
Maggie & the Squirrel
Free Spanish Listening Practice for Children:  
Short sentences in the present tense for students to listen to and join in with.  Watch a hard-working little dog protecting the birds from squirrel invaders.
Video Clip in Spanish (with subtitles):
Watch, listen, read the words and say them out loud.
This story video emphasises the value of listening:  Listening to song, listening to the world around you.  As well as learning Spanish, why not learn to recognise the sounds of the most common birds in your neighbourhood.  Have you ever heard the sound of a woodpecker tapping its head against the trunk of a tree – It is so loud!!
Below the Video Clip is a transcript in Spanish for reading practice, followed by comprehension questions in English
1. Audio in Spanish (Subtitles in Spanish and English)

Words of the story in Spanish:
MAGGIE TRABAJA
Es el jardín.
Hay un comedero de pájaros.
¡Mira! ¡Escucha!
Maggie es la guardiana del comedero.
Maggie vigila el jardín.
¡Las ardillas no tienen permiso!
¿Eso qué es?
Una ardilla llega silenciosamente.
Espera.  Escucha.
¿Está Maggie en casa?
Empieza a comer las semillas.
¡Ay no!  Puede oír algo.
Maggie y Billy han visto la ardilla.   (Past tense: M & B have seen the squirrel)
Corren a toda velocidad.
Maggie sabe lo que hay que hacer.
Ella va delante.
Billy va detrás.
Persiguen la ardilla.
¡Muy bien Maggie!  ¡Muy bien Billy!
¡Trabajan muy duro!
¡Gracias a Maggie y Billy el comedero de los pájaros está muy bien protegido!
¡Bien hecho Billy!
¡Bien hecho Maggie!
Comprehension Questions:
(Look for the answers in the story and write FULL sentences in Spanish)
1.  What does Maggie do to the garden (when she is looking out of the window!)?
…..
2.  How does the squirrel arrive?
…..
3.  What is the squirrel wondering?
…..
4.  How do Maggie and Billy run?
…..
5.  Who goes in front?
…..
6.  Who goes behind?
…..
7.  What do Maggie and Billy do outside?
…..
Now answer this question in English:
8.  Why does Maggie go in front?
(To answer this you need to figure out this tricky sentence: "Maggie sabe lo que hay que hacer".  Look at it on the video!)
…..
Main Spanish Page:
Spanish for Children
– – – – –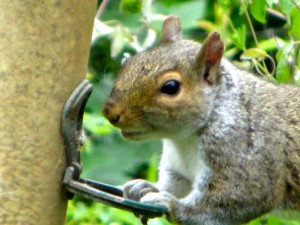 https://agreenmouse.com/maggie-trabaja-spanish-listening-for-children/