French Stories
French stories for children:
Free French listening & oral practice in engaging visual contexts with subtitles.
The stories are short, 3 minutes approximately, recorded at a manageable pace for students to listen to & join in with:  Excellent for accessible, regular independent French practice.
Ideas for use in class:
a) Watch the video
b) Highlight/point out phrases of particular interest/use
c) Talk about the story in English
d) Encourage students to engage with the characters, their feelings and experiences.
e) Relate those feelings and experiences to children's own lives.
f) Return to & discuss the phrases highlighted at the beginning.
g) Ask students to write and illustrate the story
h) Encourage students to return to the video for more practice …
i)  And go on to write and produce stories of their own!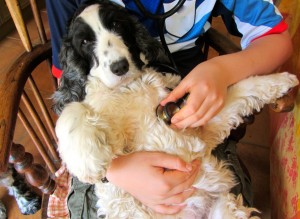 Online transcripts + Questions/Exercises are attached to each video resource.
The stories are listed roughly in order of difficulty:
Introductions in French: Meeting & Greeting! Not really a story but included because of the 'characters' in the different scenes!
Simple story in the 3rd person: My hamster is ill!
Printed words in French + questions here:
Qu'est-ce que c'est?  C'est un hamster …
A New Puppy: Simple description + LIKES & a few DISLIKES:
Follow-up Words in French + Questions for reading/writing practice here:
A New Puppy
French story for beginners:  Maggie is mischievous!
Words in French + questions here: Maggie est coquine!
Comparisons in French: A story to illustrate: Plus _ que
Click here to see the words of the story in French + follow-up questions:
Plus _ que
Maggie travaille!
A special little dog works hard to protect the birds.
Story in French + worksheet here: Maggie & the squirrel
Ma Famille – A True Story!
Lots of useful vocabulary about family members:
KS2 Story Practice:
Three versions of this video plus follow-up exercises are available here:
Maggie & Billy at the river – Questions & Answers
Short story about two dogs eating supper!
Follow-up questions, grammar and words in French here:
C'est l'heure de manger. Supper!
KS2/3 Story: Chez le coiffeur!
Words in French + online worksheet here:
Chez le coiffeur: At the hairdresser's
Presentation/Conversation practice:
Maggie's son, Billy, introduces himself, talks about his character & likes/dislikes.
Words in French + questions available here:
Je m'appelle Billy
Billy & the stick insects (Preposition Practice!)
French AND English:
Practice using NEGATIVES in French:
A Bone from Twitter! Transcript + Questions
Winter scenes in French for kids:
Weather in French: Winter!

KS3/4 French story to illustrate describing adjectives:
Le MacDo des oiseaux
French Worksheet now available:
Worksheet

CES, SES, C'EST: Practice in context!
Gorgeous true story about a little chick
Follow-up grammar + words in print:   
Ces,ses, c'est: French homophones

French Story in the 3rd Person:
Introduction in the perfect tense + likes/dislikes in the present tense.
Words in French + questions here:
Maggie has grown!

REFLEXIVE VERBS!
A wonderful story about the day the puppies were born:
One of them was Billy of course!!
Follow-up exercises:  Story + further explanations

Story about a puppy to contrast imperfect & perfect tenses:
Imperfect tense – A New Puppy
French words + follow-up exercise: Worksheet

KS3/4 Cross-curriculum Story: Fire in the mountains!!
French Worksheet with questions & story in French:
Worksheet
Translation practice into English:  Worksheet

(For main French page go to: French for Children)
Youtube Channel:  A Green Mouse
A Green Mouse is a content partner on TES Connect:
(Times Educational Supplement): TESonline