About A Green Mouse
A Green Mouse began with a small collection of songs for young children and went online in 2012 to share free French and Spanish listening resources for anyone to use and join in with.
Testimonial:
Member of the UK Department for Education Expert Committee on Language, and former Ofsted Inspector, John Bald, states:
"A Green Mouse is an inspiring, free resource that gives lots of interesting, free practice to everyone wishing to learn Spanish and French"

A Green Mouse has been mentioned several times on his blog, the Las Fallas, for example, a wonderful Spanish festival in Valencia, Spain.
Reviews by the TES Panel and TES Primary Resources Teams can be found here: TES Connect
TES Magazine February 2013: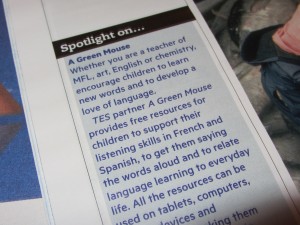 A Green Mouse is also listed as an 'Inspiring Project' on the Speak to the Future Campaign Website:
A Green Mouse 
Index of resources:
Learn French
Learn Spanish
New free resources are added on a regular basis.
ALL images, recordings, videos and photographs belong to A Green Mouse and are subject to copyright.
Just two videos about modal verbs in French and Spanish: Je veux, je peux, je dois, and ¡Querer, tener, poder! – include some acknowledged third party Fifa music, to set the football theme.

Email: info@agreenmouse.com
Youtube Channel:  A Green Mouse