About A Green Mouse
A Green Mouse is a free French and Spanish language-learning website.  It is named after an old French nursery rhyme, 'Une Souris Verte',  chosen because this quirky song gives children useful oral practice and the name suits the founder's interest in nature, gardening, and the beauty and importance of the colour green.
Aims: 
–  Constructive, accessible listening and oral practice for any interested child or teacher.
–  Friendly resources that give children reasons to want to engage and communicate in French or Spanish.
–  Grammar practice in context.
–  Freely available practice for anybody.
– Introduction
– Contact email: info@agreenmouse.com
– Youtube Channel
TESTIMONIALS:
–  Member of the UK Department for Education Expert Committee on Language, and former Ofsted Inspector, John Bald:
"A Green Mouse is an inspiring, free resource that gives lots of interesting, free practice to everyone wishing to learn Spanish and French."

– Marie Foreman, Head of Spanish, Dame Bradbury's School:
"I have used many of the excellent resources with the children in my school. They ask for the stories again and again! The resources are well-made and clearly structured and have inspired my pupils to create their own little stories.
My weekly planning wouldn't be complete without a little something from A Green Mouse.  ¡Muchas Gracias!"
–  "Really excellent visuals and organization of content.  I'm an adult learner but I still really appreciate your videos.  They make learning fun and easy.  Great job!"  Re:  Parts of the Body in French
–  "Perfect"  Re:  My Family in Spanish
–   "Characteristically beautiful, moving, life-affirming resource from  A Green Mouse."  Re:   ¿Por qué? Porque no sabe nada … 
– "Pupils loved your brilliant stories this week. Thank you!"  Re:  Spanish Stories
– "This helped me for my  Avoir Test.  Thanks!"  Re:  Avoir Practice
–  "Excellent travail – J'utilise vos vidéos avec succès auprès d'étudiants adultes analphabètes ou de niveau préalable en français langue seconde ."  Re:  Reflexive Verb Practice in French

– "The authenticity of your resources makes them so compelling. Just right for the children I teach. ¡Gracias por tu trabajo!"
– "Love the listening resources shared by @1AGreenMouse – so real, so clear, and very human. Dogs are great too."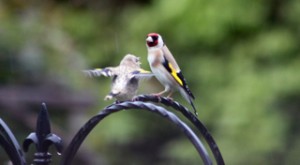 ALL images, recordings, songs and videos are the work of A Green Mouse and subject to copyright.
Only two videos do not belong completely to A Green Mouse, as they use acknowledged third party Fifa music to set the scene for practice using Modal Verbs:
Je veux, je peux, je dois, and ¡Querer, tener, poder!
A Green Mouse became a Content Partner on TESConnect in 2012 and is very grateful for the mention it received in the February 2013 issue of the Times Educational Supplement magazine: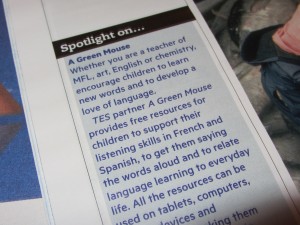 Index to all resources:
French for Children
Spanish for Children
.