About A Green Mouse
A Green Mouse began with a small collection of French and Spanish songs for a pre-school music group, before moving online to share free online French and Spanish listening resources.
The aim is to provide accessible practice for any interested child or beginner/intermediate student, preferably for use before, during, or after class, freely available for all, with or without a teacher.
ALL images, recordings and videos are subject to copyright.
Contact email: info@agreenmouse.com
Youtube Channel:  A Green Mouse
A Green Mouse was welcomed as a Content Partner on the Times Educational Supplement in September 2012, and is listed as an 'Inspiring Project' on Speak to the Future:  A Green Mouse 
Testimonial:
Member of the UK Department for Education Expert Committee on Language, John Bald, states:
"A Green Mouse is an inspiring, free resource that gives lots of interesting, free practice to everyone wishing to learn Spanish and French"
A Green Mouse has been mentioned several times by John Bald on his blog, the Las Fallas, for example.
This photograph of a goldfinch chick appears in the first blog post on A Green Mouse.  It represents all that A Green Mouse stands for: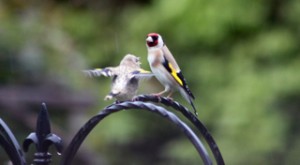 Index of resources:
Introduction
Learn French
Learn Spanish
New free resources are added on a regular basis.