About A Green Mouse
A Green Mouse began with a small collection of songs for young children and went online in 2012 to share free French and Spanish listening resources for anyone interested.
This free French and Spanish website provides access to comprehensible French and Spanish practice for beginner and intermediate language learners to listen to and join in with.
The resources are made in-house, and there is a preference for subtitles on all the video clips, for reading practice, and to aid understanding.
Testimonial:
Member of the UK Department for Education Expert Committee on Language, and former Ofsted Inspector, John Bald, states:
"A Green Mouse is an inspiring, free resource that gives lots of interesting, free practice to everyone wishing to learn Spanish and French"

A Green Mouse has been mentioned several times on his blog, the Las Fallas, for example, a wonderful Spanish festival in Valencia, Spain.
Here are examples of reviews on tesConnect, including by the TES Primary Resources Team:
Ser and Estar
Describe yourself in French
Vouloir, Pouvoir, Devoir
TES Connect
TES Magazine February 2013: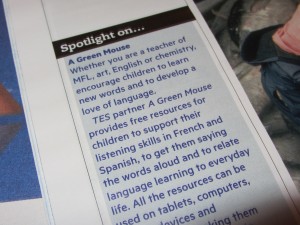 A Green Mouse is also listed as an 'Inspiring Project' on the Speak to the Future Campaign Website:
A Green Mouse 
Index of resources:
Learn French
Learn Spanish
New free resources are added on a regular basis.
ALL images, recordings, videos and photographs belong to A Green Mouse Ltd, Company No: 08001594, and are subject to copyright.
Just two videos about modal verbs in French and Spanish: Je veux, je peux, je dois, and ¡Querer, tener, poder! – include some acknowledged third party Fifa music, to set the football theme.

Email: info@agreenmouse.com
Youtube Channel:  A Green Mouse