About A Green Mouse
A Green Mouse began with a small collection of French and Spanish songs chosen and put together for a pre-school music group before moving online to share free French and Spanish listening resources.
It is the work of Susie Mair, BA Joint Honours French & Spanish (Durham University), PGCE.  Mother of three, Susie was born in Caracas, Venezuela, the daughter of a Canadian mother and an English father born in Sevilla, Spain.
Susie learnt English and Spanish from birth, and added French formally when she transferred to a French school in Valencia, Spain aged 7.   Old enough to read and write, she learnt French very quickly, and it is for this reason that she likes to put subtitles on all the videos.
Susie trained as a teacher in the 1980s and gained a distinction in her teaching practice.  Her husband's job led to extensive travelling, but once settled permanently in the UK she preferred to teach herself enough technology to share free listening resources for ANY child, rather than become a private tutor.
Susie shares for anyone interested.  She believes technology is just a tool and that teachers are absolutely essential.   She tries to produce resources which might inspire children and encourage discussion.  They are available as free practice for anyone to use before, during, or after class.
A Green Mouse was welcomed as a Content Partner on the Times Educational Supplement in September 2012, and is listed as an 'Inspiring Project' on Speak to the Future:  A Green Mouse 
ALL images, recordings and videos are subject to copyright.
Testimonial:
Member of the UK Department for Education Expert Committee on Language, John Bald, states:
"A Green Mouse is an inspiring, free resource that gives lots of interesting, free practice to everyone wishing to learn Spanish and French"
A Green Mouse has been mentioned several times on John Bald's blog, the Las Fallas, for example.
This is a photograph of Susie and her sisters as 'falleras infantiles' in Valencia, Spain:

This photograph of a goldfinch chick appears in the first blog post on A Green Mouse.  It was taken by Susie's son when he was 12 years old (used with permission), and represents all that A Green Mouse stands for: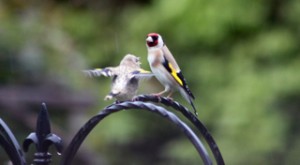 Feedback of any kind is much appreciated:
Email: info@agreenmouse.com
Youtube Channel:  A Green Mouse
Index of resources:
Introduction
Learn French
Learn Spanish
New free resources are added on a regular basis.