About A Green Mouse
A Green Mouse takes its name from the French nursery rhyme, 'Une Souris Verte'.
It began with a small collection of French and Spanish songs for young children, before moving on to explore the wonderful opportunity to link sound to words, images and video provided by youtube, and share freely accessible language practice for anyone interested.
A Green Mouse has been producing short video clips in French and Spanish since August 2012.  One of the very first was 'Maggie and Billy at the River'.   Maggie and Billy are real dogs, mother and son.  Stories about them are the heart of this website, but there are many more resources which target specific topics and grammar points for beginner and intermediate students of any age, and many more are planned for the future.
A Green Mouse was welcomed as a Content Partner on the Times Educational Supplement in September 2012, and is listed as an 'Inspiring Project' on Speak to the Future:  A Green Mouse 
This treasured, personal photograph of a goldfinch chick appears in the first blog post on A Green Mouse.  It represents all that A Green Mouse stands for: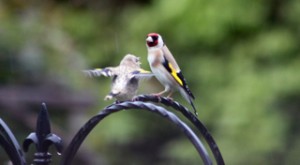 ALL images, recordings and videos are subject to copyright.
A Green Mouse is the work of Susie Mair, BA Modern Languages (Durham University), PGCE, a mother of three, born in South America to Canadian/British parents, who attended local Spanish and French schools in Spain and South America, completed her education and post-graduate teacher-training in the UK, and then travelled extensively with her own family, including involvement in a number of very different types of schools, two of them bilingual.
Here is a picture of her with her sisters, as a fallera infantil in Valencia, Spain (she was a pupil at the Lycée Français de Valence at the time):
Contact email: info@agreenmouse.com
Youtube Channel:  A Green Mouse
Testimonial:
Member of the UK Department for Education Expert Committee on Language, John Bald, states:
"A Green Mouse is an inspiring, free resource that gives lots of interesting, free practice to everyone wishing to learn Spanish and French"
A Green Mouse has been mentioned several times by John Bald on his blog, the Las Fallas, for example.
Index of resources:
Introduction
Learn French
Learn Spanish
New free resources are added on a regular basis.