About A Green Mouse
A Green Mouse is a free French and Spanish language-learning website named after a traditional French song for children:
Une Souris Verte.
Aims: 
–  Constructive, accessible listening and oral practice for any interested child or teacher.
–  Resources that give children reasons to want to communicate in French or Spanish.
–  Grammar practice in context
–  Freely available practice for anybody.
– Introduction
– Contact email: info@agreenmouse.com
– Youtube Channel
– Twitter:  @1AGreenMouse
A Green Mouse was invited to be a Content Partner on TESConnect in 2012 and is very grateful for the mention it received in the February 2013 issue of the Times Educational Supplement magazine: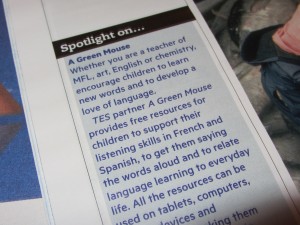 TESTIMONIALS:
– Member of the UK Department for Education Expert Committee on Language, and former Ofsted Inspector, John Bald, states:
"A Green Mouse is an inspiring, free resource that gives lots of interesting, free practice to everyone wishing to learn Spanish and French."

– Marie Foreman, Head of Spanish, Dame Bradbury's School:
"I have used many of the excellent resources with the children in my school. They ask for the stories again and again! The resources are well-made and clearly structured and have inspired my pupils to create their own little stories.
My weekly planning wouldn't be complete without a little something from A Green Mouse.  ¡Muchas Gracias!"
– – –
–  "Really excellent visuals and organization of content.  I'm an adult learner but I still really appreciate your videos.  They make learning fun and easy.  Great job!"  Re:  Parts of the Body in French
–  "Perfect"  Re:  My Family in Spanish
–   "Characteristically beautiful, moving, life-affirming resource from  A Green Mouse."  Re:   ¿Por qué? Porque no sabe nada … 
– "Pupils loved your brilliant stories this week. Thank you!"  Re:  Spanish Stories
– "This helped me for my  Avoir Test.  Thanks!"  Re:  Avoir Practice
–  "Excellent travail – J'utilise vos vidéos avec succès auprès d'étudiants adultes analphabètes ou de niveau préalable en français langue seconde ."  Re:  Reflexive Verb Practice in French
– – –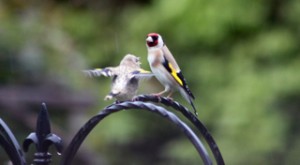 ALL images, recordings, songs and videos are the work of A Green Mouse and subject to copyright.
A Green Mouse is the work of a mother with an international background, an Honours Degree in Modern Languages, and a Postgraduate Certificate in Education.
Only two videos do not belong completely to A Green Mouse, as they use acknowledged third party Fifa music to set the scene for practice using Modal Verbs:
Je veux, je peux, je dois, and ¡Querer, tener, poder!
– –
Index to all resources:
French for Children
Spanish for Children
.